Encounter Templates
The menu box above the progress notes gives you easy access to several features of the chart and OSCAR resources without leaving the chart area.
Templates give you a guide to writing up the encounter note for common examinations and disorders.
Place your cursor in the left search box above the encounter note, or else press 'shift-tab' while your mouse is in the edit screen of a progress note.

Type the first few letters of a template (e.g. 'te' for tension headache). The templates starting with those letters will appear. Select the template with your mouse or by using the arrow keys to move down the list then click with the mouse or click on enter key to have the template entered into your note.
This will access over 250 evidence-based templates from the College of Family Physicians.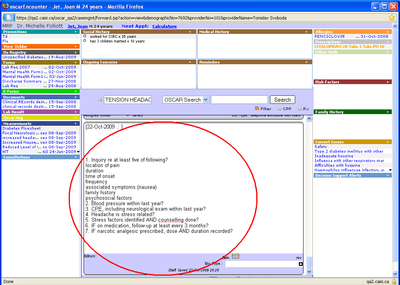 Modify and add to the template text in order to document the patient's condition
Click on the SAVE or SAVE, SIGN & EXIT button to add this to the patient's e-Chart
For instructions on how to create and add a template to the master list, see Chapter 14- Inserting an Encounter Screen Template