1.6.3 Security Functions
As the Administrator, it is your responsibility to educate new users to the importance of protecting their login and password in OSCAR. This is important to protect the integrity of the system and the patient's confidential records.
Security


ADD A LOGIN RECORD
See New User Setup


SEARCH/EDIT/DELETE SECURITY RECORDS

If you wish to view/change the user name, password and PIN of a certain provider, type their provider number into the search field and click 'Search'. Click on the correct user name, and modify. You will not be able to view their old password, as it will be encoded. If you want to change the password, delete the encoded text, type in the new password, then click "Update Record"
Adding a New OSCAR Role Overview
A new OSCAR Role can be needed for a variety of reasons:
For multi-disciplinary role based access within a single installation of OSCAR / CAISI

To allow for multi-disciplinary role based access across multiple installations of OSCAR / CAISI across an integrated community agencies / clinics.
To clearly demarcate records written by different disciplines within a single installation of OSCAR / CAISI.
In order to add a new OSCAR role you need to:
Add A Role
Assign Role Rights to Object
ADD A ROLE
Type the role you wish to add until the search box. If it is found to be a New Role, click Save to add it.
ASSIGN ROLE TO PROVIDER
Search for the provider you wish to modify using the search field in the upper right corner
Choose a role from the drop down menu and click one of the three available actions: "Add", "Update", or "Delete"
Each new role will appear as a new row. Providers with multiple roles will have multiple rows in the chart. If you are shown a message "Role NOT added!! (11)" you have already assigned this role to this provider.
ASSIGN ROLE/RIGHTS TO OBJECT

This function can be used to assign certain privileges (such as 'Read', 'Write', or 'Delete') to specific roles (Doctor, Nurse, etc.) or even to certain providers. Choose from the drop down menus for the role or provider you wish to modify, then click the checkboxes of the objects and privileges you want to assign to them.
Special Note: In order to be able to properly log into OSCAR, the minimum ObjectID that is required is " _appointment" with a read privilege.


SECURITY LOG REPORT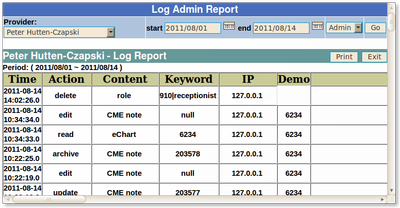 Track who has been logging into the Admin screen or regular Log In screen using this function.
Looks like Peter deleted the role receptionist from user 910 when he was logged in from IP 127.0.0.1, so that is who did it!
Notice that he is reading and editing the chart of demographic 6234. The major is his patient so we don't need to discuss what happens when the confidentiality agreement is breached.
UNLOCK ACCOUNT
Unlocking accounts that have been locked due to repeated login failure.
Just select the blocked IP from the dropdown list of blocked computers and click the unlock button to unlock the account.