1.5.3.17 Form Report
The Form Report's features will give you the ability to create study reports on any of the forms from the Encounter screen. Each form report needs to have captions added to the database field names, as well as the fields of the database you would like in the report selected. The current configured form reports at present are for the BC Antenatal Record, Labour and Birth Record and the Newborn Record.
Form Report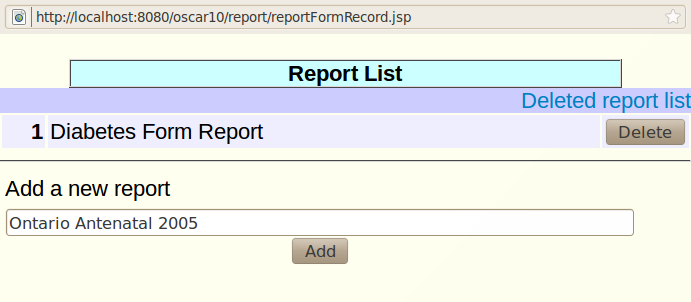 Click on Form Report
Click on the desired report
Click on either the [Report in HTML] or [Report in CSV]

Report in HTML for a report that will display in OSCAR
Report in CSV for a report that will display in spreadsheet programs such as Open Office

1 in the report means = yes; 0 in the report means = no
THE HTML REPORT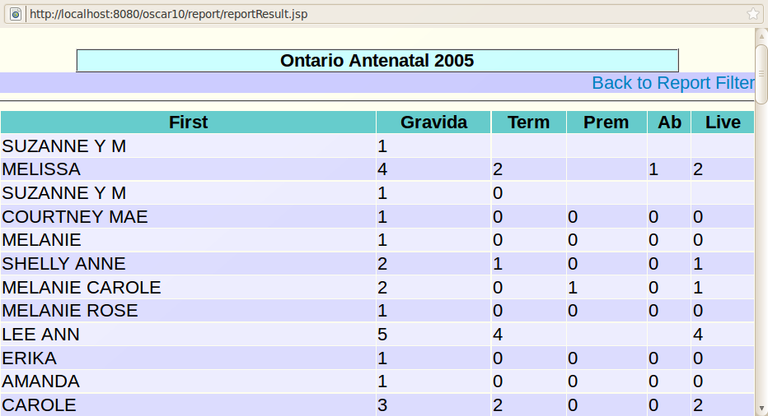 THE CSV REPORT

If the CSV report does not automatically open in your spreadsheet program, save the file to your hard drive
Open your spreadsheet program, the following instructions are for Excel(TM), other programs may be similar
Click DATA & then GET EXTERNAL DATA
Click IMPORT TEXT FILE
On the FILE of TYPE dropdown and select ALL FILES
Find the file you saved to the hard drive & double click on it
Under [Original File Type] it should be clicked on [Delimited]
Click the NEXT button & TAB should be clicked off under [Delimiters]
Click the NEXT button & under [Comma Data Format] GENERAL should be checked
Click FINISH

In the next box you want it to IMPORT DATA into EXISTING WORKSHEET
Your report will flow into Excel in columns and rows
You can now manipulate your data as desired
TO ADD A NEW REPORT
Enter the name of the new report in the above screen and click 'Add' eg Ontario Antenatal 2005 Configuration

Then select the form whose data you wish to access and click 'Go' eg AR2005
Then edit the fields as in the next section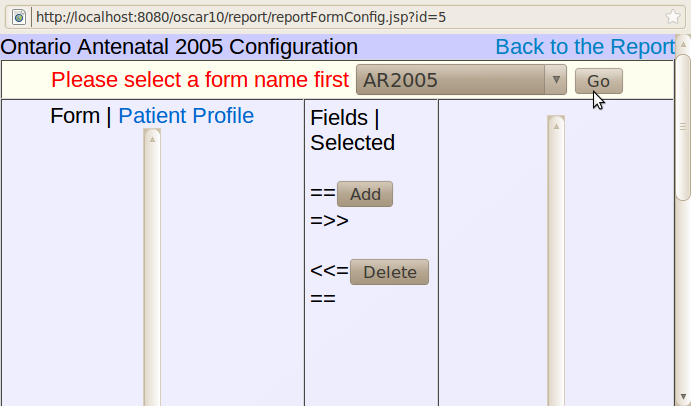 TO EDIT FIELDS IN THE REPORT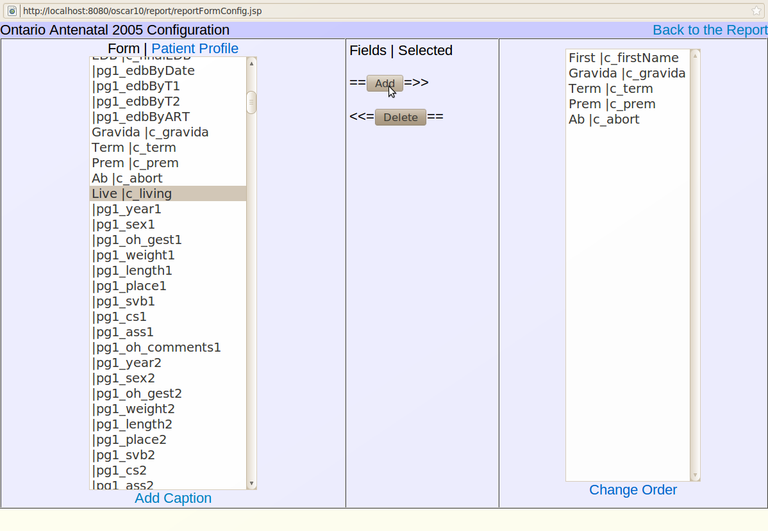 After selecting a report, click on CONFIGURATION on the upper right screen
The column to the right are the fields of the form that are currently selected for the report
The column to the left are fields in the selected form database that have NOT been used in the report currently
**NOTE: if you want to use any of the database fields on the left you MUST add captions as described in the section below
If the fields have no caption you will get an error when running the report.


ADD/EDIT CAPTION
To edit any of the field captions, click on the ADD CAPTION text link at the bottom of the left column
Fields that already have captions are yellow
Type the desired heading for the field in the left hand box and click on the ADD/UPDATE button opposite the database field name
When finished click on the BACK to the CONFIGURATION link on the upper right on the screen
CHANGE THE ORDER OF THE FIELDS IN THE REPORT
In the same window as above:
Click on the CHANGE ORDER word link at the bottom of the right column
Click on the tick box to the left of the field you want to move and click on the MOVE HERE button opposite where you want the field to move to
When finished click on the BACK to the CONFIGURATION word link
ADD FIELDS FROM THE MASTER DEMOGRAPHIC AREA TO THE REPORT

Click on the PATIENT PROFILE word link above the left column
These are the field from the Master Demographic screen
The captions can also be changed in these by clicking on the CAPTION word link
To go back to the form database fields, click on the FORM word link at the top of the column