1.6.11.7 Demographic Export
Export patient files in the CMS standard for other Oscar, and compatible, programs.
Patient Data and Demographic Export
This export is for transferring patient demographic, clinical and administrative data to another clinic, or to another compatible program. Oscar will need to temporarily write to usr/local/temp for export to happen.
CMS Export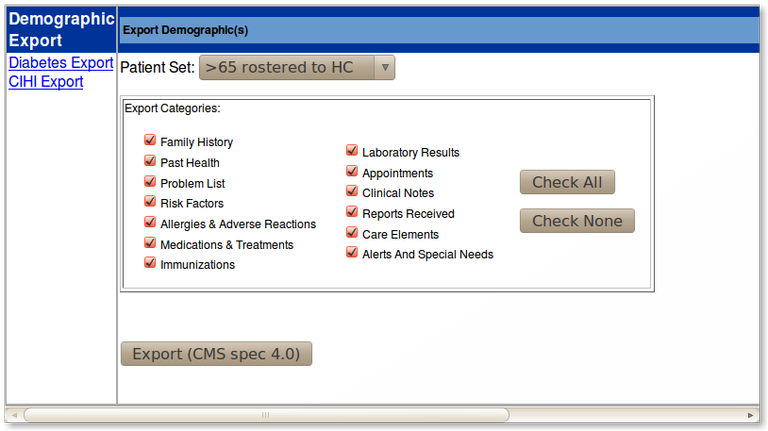 The Patient Demographic Export abstracts files and exports them in a standardized import export format
Click on the 'Demographic Export' (if you do not see this option contact your site support staff for privileges)

Choose a patient set from the drop down menu that you defined earlier in the Demographic Report Tool. In this case we have selected the list of patient(s) that we labeled '>65'

What do you want to export? Usually you want all options checked so 'Check All'

Click the Export button to export into CMS spec 4.0 format.

The zip file can be used to import the patient(s) into another Oscar or other compatible software. Alternately you can open it with a text editor or Firefox (the zip consists of a text file, a log file, and xml file)
Diabetes Export

The Diabetes export can be accessed here.
Identify the patient set
Specify the date range
Export!
It will download a zip of XML files with certain data extracted from the chart as per OMD standard.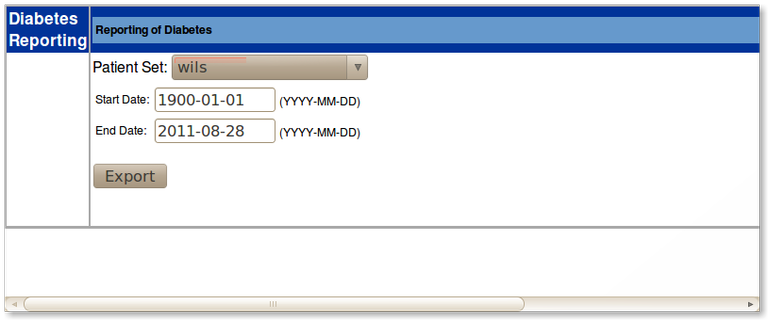 CIHI Export
The CIHI export is another specific format (Canadian Institute for Health Information)
When this report completes the page will refresh with the generated file name appearing in the list.